First Ever Brad Shrine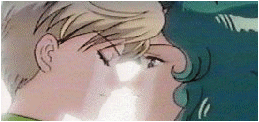 This shrine is dedicated to that illusive character in Sailor Moon S (Now showing on Cartoon Network). Brad is a former love of Michelle, and boy is he a babe! Unfortunately, information on him is scarce and pictures are few. But I won't let that stop me from creating this shrine to him. The world must know how amazing he is.
Needed: If anyone has any of the following, be sure to let me know! I need pictures, sound clips, background, likes, dislikes. And if anyone could tell me his Japanese name, I'd be forever in your debt!

Brad Episodes
Episode 5 -

We first hear about Brad in this episode. Elizabeth and Serena are talking about kissing and first kisses being important. They're overheard by Michelle and Amara, who of course have some advice for them on the subject. Amara doesn't remember her first kiss because "it was so long ago". But Michelle remembers her first kiss "like it was yesterday". She reveals to us that her first kiss was with a boy named Brad. She calls him "my sweet Brad". *Sighswoon* Will you share him, Michelle? Oh, wait, she doesn't have to! He's her ex, so he's fair game for us fangirls! You can drool over Darien all you want, Michelle, I'll take Brad.
Brad Spoilers

This is information gleaned from various sources. If you don't want to be spoiled, then don't look. You've been warned. For the rest of you, enjoy the spoilers.

Brad Mailing List

Dedicated to the discussion of all things Brad. Enter your address below or send an Email to bradluv-subscribe@egroups.com





This page written June 16, 2000 by Brad no Miko.
This site copyright 2000 by J. Andrews, K. Butler,
J. Dunbar, and M. Beddes. Email is flaminggeeks@yahoo.com.