Cardcaptors C&C
Cardcaptors is the name of the Canadian dub of CLAMP's Card Captor Sakura. The company doing this production is Nelvana, a name you'll see on quite a number of cartoons. They also have merchandising rights, so expect to see Cardcaptors toys and school supplies in the near future. The series is currently airing on the KidsWB at 9:30am on Saturdays, though local airing times may differ.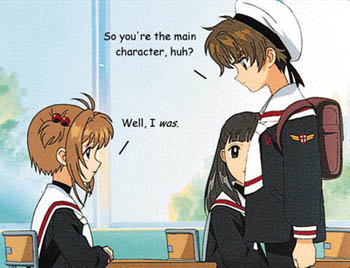 Episode Reviews
Rants
Miscellaneous
Links
This site copyright 2000 by J. Andrews, K. Butler,
and J.Dunbar. Email is flaminggeeks@yahoo.com.