Scary Picture #1
Our first scary picture was found in a local paper. It seems the US is becoming more and more like Japan every day. This picture really needs no introduction, so all I'll say about it is, this is 100% true. The image is not doctored in any way, except that it was scanned in black and white.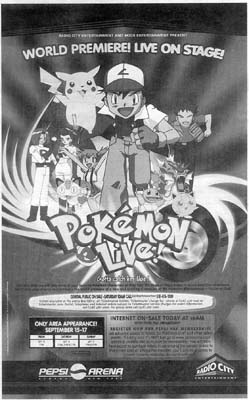 Caption reads: Gotta catch 'em live!
Text reads: Join Ash, Pikachu and lots more of your favorite Pokémon characters as they take the
stage at Pepsi Arena in an all-new live adventure! Don't miss your chance to experience the world
premiere of a new and exciting dimension of the Pokémon phenomenon - Pokémon Live!





Flaming Geeks Home



Ad taken from The Post-Star, June 22, 2000.
Pokemon and its images belong to Nintendo.
This site copyright 2000 by J. Andrews, K. Butler,
J. Dunbar, and M. Beddes. Email is flaminggeeks@yahoo.com.